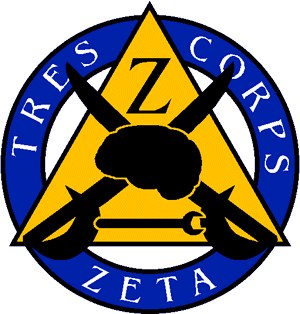 ---
Zeta Squad's OFFICIAL 'Spam' Policy

The the mail addresses that follow are personal and private email addresses that are being offered as contacts for Zeta Squad and are intended for the sole purpose of reaching the officers listed with matters pertaining, but not limited to: Joining TRES Corps, transferring from another TRES Corps squad to Zeta, sending submissions for Tech items for editorial review, etc. They are not offered for the purposes of providing legit addresses for mailing lists for people to send us unsolicited commercial e-mail (Hereafter referred to as UCE), otherwise known to those on the USENET and Internet as 'spam'. We don't want to hear about those miracle health items, porno sites, illegal MLM and Pyramid schemes, bad investing advice, etc.
To that end, this is notice to all bulk e-mailers and their representatives that:
Use of the addresses below is only on a granted permission basis.
We do not wish to recieve any UCE at the below listed addresses.
We specifically do not grant permission to anyone using UCE as a means for advertising.
Use of these addresses without the owner's express, granted permission are subject to a charge of not less than $500 per e-mailing, as per the provisions of US Code 47, Chapter 5, Subchapter II, Paragraph 227, the 'Junk Fax' law. This charge is billable upon reciept of the e-mail(s) in question.
The use of the addresses below implies that the sender has recieved this notice and understands and accepts the terms of the above statements and will abide by the same.
NOTE: The addresses in the links below are deliberately broken throughout to impede their use by bulk e-mailers by way of a WWW mailto:/address harvester. In order to use them, you'll have to remove the invalid portions of the address. They vary in content, but are obvious- sorry about that, but we have to do all that we can to make it hard for the spammers to use this page as a source for their address lists.
---
Current Zeta Duty Roster:

---