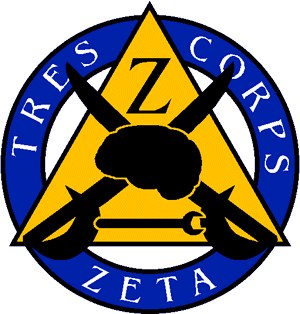 Zeta is the research, development and production-oriented arm of TRES Corps, distinct in its nature from other squadrons inside of TRES Corps.
Our purpose is to be a think-tank for clever ideas for gagetry to be used in story lines, development of specialized internet resources for TRES Corps, and an editorial resource for technical content for the add-on stories produced in the newsgroup, alt.barney.dinosaur.die.die.die.
A common misconception is that TRES Corps members must be in Zeta to produce R&D. This is not the case, rather those who are in this squad are specializing in R&D and anyone may contribute ideas and designs.
In general, acceptable ideas follow one of these catergories:
Real Life
Sci-Fi
Magitech
They must also conform to the following:
The technology being described must conform to known laws of science.
OR it must conform to proposed laws of science by scientists, engineers, etc. In other words, anti-gravity, overunity motors, etc. is fair game and totally acceptable by us providing the device meets the rest of the criteria for acceptance. (Skimming the science newsgroups are a great source for ideas!)
Devices that are technological in nature that don't conform to the previous two criteria are still acceptable provided a sensible description (detailed, if at all possible) of the "theory" of operation behind the device accompanies the devices' description. This is the criteria applied to most of the Magitech we accept (Using Authur C. Clarke's Law- Any sufficiently advanced technology is indistinguishable from magic).
Is there a good reason for this sort of thing? Is there a purpose behind doing the device in question?
Is it a common device in real life? Ordinary passenger cars would not be an item to submit to Zeta. Jet/Rocket packs for strike teams that lasted more than 5-10 minutes would be. Purposefully modified common equipment would also be acceptable.
It's not infinite in scope or power- we can't (at least to the best of our knowlege) achieve this sort of thing in real life, so why allow it in the story content?
It's not so dangerous to operate that it's as much a hazard to the users and their allies as it is to the targets. A tacnuke as a hand-held anti-personel weapon is an example of that sort of danger.
The description of the device(s) submitted for review should have all or at least most of the following to aid in the evaluation of an idea:
Device weight and size
Detailed description of the makeup of the device- in other words, what it looks like.
Operating temperature, humidity, etc.
Detailed description of the operation of the device.
If possible, an overview of the science behind the device- often, this can be wrappered into the operation part.
In the case of weapons, rounds capacity in the magazine, rate of fire, effective range, damage levels, etc. where applicable
In the case of vehicles, range of operation on one tank of fuel/battery charge/etc., ground/air/space speed, carrying capacity, general armament, armor, and equipment options where appicable.
An illustration of the device in question is preferred for our HTMLization of the device design description- if one is not provided Zeta officers will gladly provide a ray-traced/radiosity rendered, pencil/pen & ink drawing, or CAD illustration for you (Our choice).
We also accept un-fleshed out ideas that don't meet the above criteria- Zeta views these as requests for research. Our officers will mull over the merits of the idea and will attempt to fill in the rest of the holes if the idea appears to hold merit.
The governing principle of all R&D produced by Zeta is its reasonableness, or non-cheddary/non-munchkinish quality. All submissions are subjected to editorial scrutiny by the acting CO & XO of Zeta, using the above criteria as the basic guidelines for giving a "go/no-go" decision on the submission. If it is editorially approved, it is subject to final approval by the acting Grand Admiral of TRES Corps. After final approval, the submission is usually announced on the newsgroup alt.barney.dinosaur.die.die.die by the individual (or individuals) responsible for the design and is eventually added to the HTML pages covering our designs.